SPARK
Closing gaps in the neighbourhood energy system
Smarter energy coordination
The rollout of solar rooftops is gaining massive momentum as Europe aims to put solar panels on new public, commercial and residential buildings. By 2030 there will be 200 million distributed energy resources (DERs) in Europe only. This includes rooftop solar, small wind and hydro, as well as storage such as electric vehicles (EVs) and residential water heaters.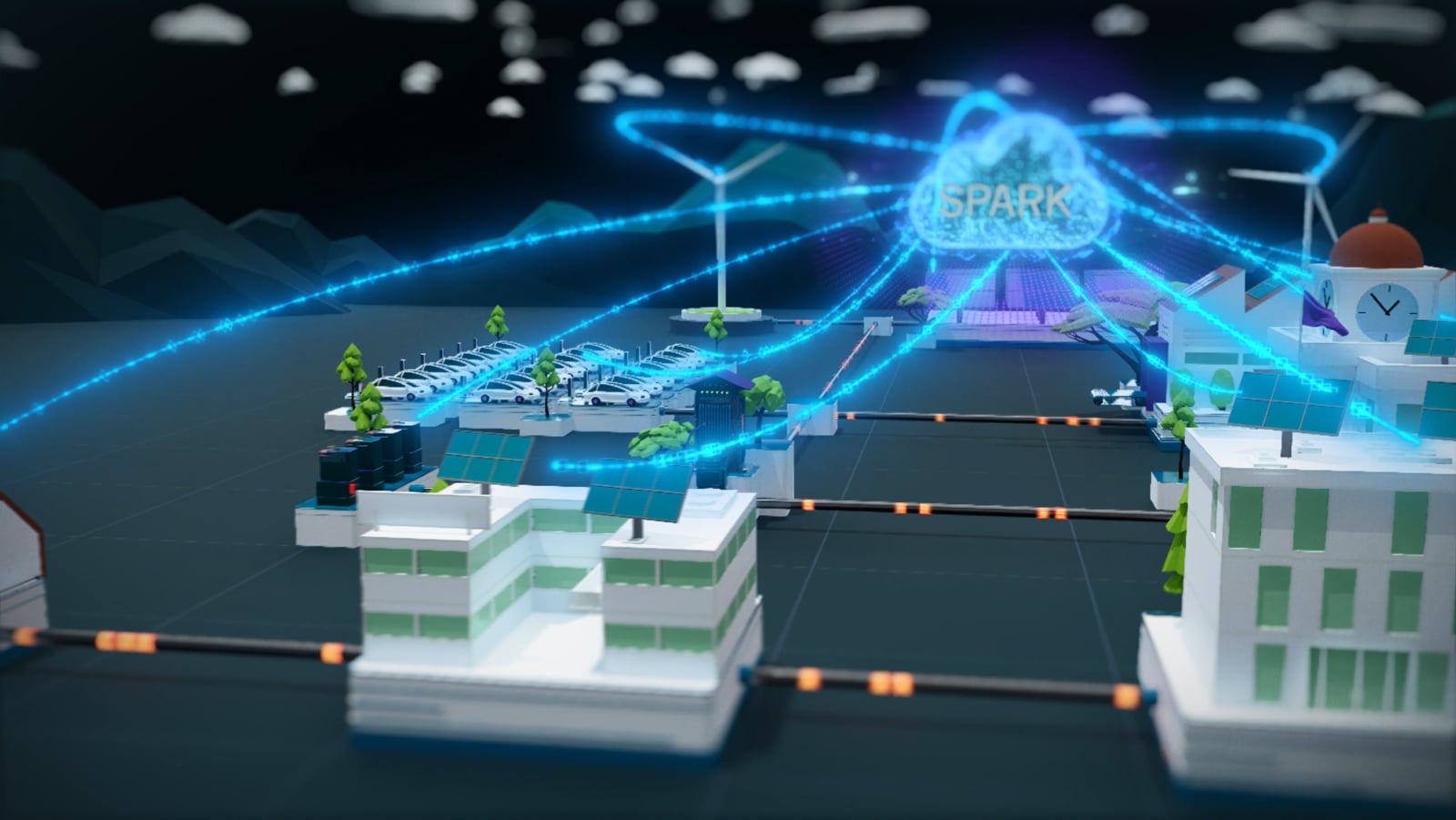 The grid will face challenges on this journey, but we see how the issue can be solved before it happens. DERs can facilitate a more intelligent use of the power grid, but we need a highly intelligent energy system to handle the complexity.
We are building an ecosystem of partnerships and services that will harmonise connected resources within a neighbourhood energy system in a sustainable and scalable way that benefits everyone!
New market opportunities for EVs
The complexity increases as more electric vehicles (EVs) enter the scene. With extensive knowledge and tools to predict where and when the grid will face risk, we can empower assets, like EVs, to support the grid with the needed flexibility.
This creates new market opportunities for earning money from EV flexibility. If you are an automaker, have an EV fleet or provide EV charging solutions, reach out, as we can optimise the value of your cars and charging solutions.
Distribution System Operators can now leverage day-to-day local energy coordination
Operate efficiently and maintain a healthy grid. Smart energy coordination will help you absorb the increased solar and EV rollout and optimise energy distribution locally. We aim to enable smooth energy restoration, increase field worker safety, provide risk management and grid-aware neighbourhood energy coordination.

Proactive energy restoration
Power restoration tools will give field workers safer and more straightforward routines. Disable DERs in the desired area to prevent outages and restoration peaks.
Grid aware charging
Solve voltage violations, capacity constraints, and level out peaks before they happen by utilising the full potential of Spark's DER network.

Want to find out more?
Join the Spark partner ecosystem as a DSO
We are building a partner ecosystem of smart charging service providers, EV manufacturers, grid operators and many more. We'd like to hear from you and explore the possibilities together!
Are you our new colleague?
We are expanding our team and looking for proactive people with problem-solving attitudes. You won't be pushing code/pixels/text around but instead creating answers to challenges we face. You will have a say in how we build solutions that are an integral part of the green neighbourhood of tomorrow.
Exciting projects await, and brilliant, optimistic colleagues to work with. Although we are a part of the big Volue family, we operate as a nimble and diverse team of 20. We look forward to adding developers, architects, product specialists, consultants and a few more.